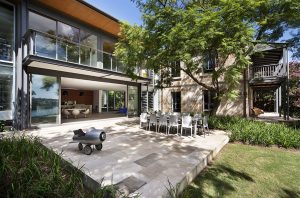 In the Market for just 3 weeks, was sold by Christie's network

Represented by Exclusive Affiliate Ken Jacobs and Offered at Circa A$20 Million, the Historic Property was on the Market for Just Three Weeks
Sydney, NSW, Australia – The eco-responsible estate of celebrated actress Cate Blanchett and her theatre director husband Andrew Upton has sold. The buyer and sale price were not disclosed.
"The extraordinarily quick sale of this treasured estate speaks to the expertise of our esteemed Affiliate, Ken Jacobs, the global power of the Christie's brand, and the enduring value of fine real estate, most especially properties with such notable provenance," says Dan Conn, CEO of Christie's International Real Estate.
Set on a peninsula on Sydney's north shore, Bulwarra is an understated heritage home that has been deftly reimagined to unite a contemporary aesthetic with a classic setting
Pay a visit to Hunters Hill, Sydney's oldest garden suburb, and you will find one of Australia's most unique heritage homes. There, set within more than 39,200 square feet of private landscaped grounds, is Bulwarra. Built in 1877, the home has been thoughtfully extended and reconfigured by celebrated actress Cate Blanchett and her theatre director husband Andrew Upton to create an elegant, open-plan villa that works in gentle harmony with its environment.
Aboriginal for "high" or "lofty," Bulwarra sits on a ridge with views across Lane Cove River to Sydney, just over five miles away. The riverside estate has, according to Dr Stephen Lesiuk, one of the architects behind the property's award-winning design, "been carefully orientated and reconstructed to allow the home to open up to the sun, and draw the environment and landscape into the building." Architect Nadine Alwill of Alwill, who undertook the detailing, adds: "The brief was to purify the old house… to embrace the view, create cooling breezeways throughout, and let sunlight pour in."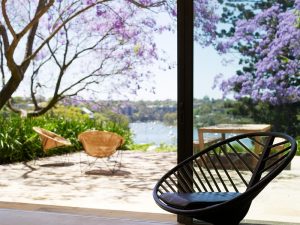 Banner image: Bulwarra enjoys panoramic views across Lane Cove River to Sydney. So it's fitting that every aspect of Bulwarra embraces indoor/outdoor living. The home's design and renovation has received two major building awards, including Australia's Housing Industry Association's Home of the Year 2009. Photograph: Anson Smart
At the heart of the sandstone home is an open-plan family room with professional-grade island kitchen. This large living area opens out to a terrace and William Dangar-designed gardens, where glass overhangs, awnings, and judicious landscaping provide shade and enhance the views.
DESIGN FOR MODERN LIVING
A large terrace, sheltered from the sun by deciduous trees, and an indoor breakfast 
area give the home a relaxed and welcoming air, although "you can make it as formal 
or informal as you like," observes Ken 
Jacobs, managing director of Sydney-based 
property brokerage Ken Jacobs, an affiliate 
of Christie's International Real Estate.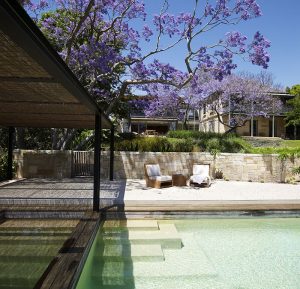 A pool pavilion, championship tennis court, trampoline platform, guesthouse and direct river access set the scene for relaxed living and entertaining. Photograph: Anson Smart
The sense of light within the living area 
has been created through the use of wide glass windows, high ceilings, and polished concrete floors. Adjacent to this room is a smaller lounge and more formal dining area, displaying a similar contemporary design.
The home's upper floor is reached via 
a striking metal-barred stairwell and open, metal staircase in the hallway. "The stairs 
are a clever design feature and complement the flow of the living areas," says Jacobs.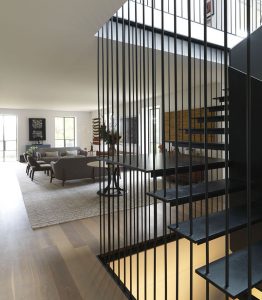 The extraordinary design of the one-of-a-kind metal staircase and barred stairwell make a dramatic standout feature in the entrance hall. Photograph: Anson Smart
On the first floor there are five spacious bedrooms, three of which have wide decks offering stunning river and garden views. There is also a separate suite that is ideal 
for guests. "Upstairs has been completely reconfigured. The high ceilings were an original feature but now there is a lot more light," Jacobs continues.
The master bedroom comes with a sky-lit dressing room and an en suite bath, including a glorious freestanding Boffi tub precisely positioned to enjoy the breathtaking vista. While it feels perfectly integrated into the rest of the house, the room is, in fact, set within a separate wing for ultimate privacy.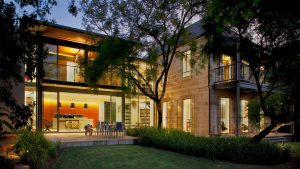 Bulwarra is the 2009 winner of the HIA CSR NSW Award for Home of the Year.It was also the winner of the 2009 Master Builders Award for alterations/renovation, environmental management and pool. Photograph: Anson Smart
Much of this easy fluidity has been achieved through the considered redesign 
of the building, particularly between the old and new sections. The pavilion-style extension, for example, connects to the original home via an innovative and light-enhancing link of glass "gills" that allow the building to open and "breathe."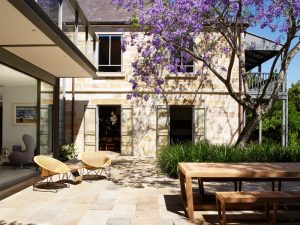 Designed by leading Australian landscape architect William Dangar, the gardens include an informal dining terrace, which connects seamlessly with the living areas and enjoys tranquil views across the river. Photograph: Anson Smart
Similar harmony can be found outside, too: although the sandstone used on the new exterior walls is in a modern style, it is still the same character as the original stone and gracefully links past with present. "There is nothing jarring. It flows beautifully," says Jacobs. "It has been done very subtly."
A surprise awaits at lower-ground level, where an unexpectedly roomy and bright home office/library area has a dramatic double-height ceiling. Also discreetly tucked away are the greywater management systems, which recycle shower and kitchen water for irrigation. These environmental components are complemented by solar panels within the roof, which generate electricity. "It's not a building that screams 'green'; it's a building that is quietly green. It is a landscape for living by the river," says Lesiuk.
A pool pavilion, championship tennis court, trampoline platform, guesthouse and direct river access set the scene for relaxed living and entertaining. Photograph: Anson Smart
This remarkable home makes the most of its large garden, with a heated pool and spa, tennis court, and trampoline. Conceived as a private hideaway for guests, creative pursuits, or quiet contemplation, a self-contained pavilion features a retractable façade that folds back into the landscape.
Hunters Hill, which is set on a peninsula with beautiful river views and large parks, has tree-lined streets, good schools, and a village atmosphere that is popular with families. Something of a secret, it attracts the cognoscenti. "It really does offer a different feel," says Jacobs. "Quite a few international buyers stumble on to it and settle there."
Source: Christie's International Real Estate
More dream houses here.