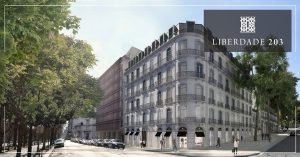 Renowned for its excellence, Liberdade 203, had more than 60% of its 44 apartments sold in less than three months.
This development is made up of a number of recovered buildings that now dominate the corner of Avenida da Liberdade and Rua Rosa Araújo.
The apartments range from 1-bedroom apartments to 4-bedroom duplex apartments. These apartments are distributed over 6 floors and all of them have direct access from the underground parking – a feature that is designed to ensure added comfort and privacy.
With areas ranging from 90 to 278 sqm, the apartments vary in style from the more traditional to the more contemporary and feature spacious areas and natural light, good-sized balconies and terraces. More than 3,100 sqm on the ground floor is reserved for retail.
Liberdade 203 shows off its cosmopolitan side and contributes unequivocally to consolidate the Avenida da Liberdade as a reference of quality and prestige on an international scale. This is yet another example of redevelopment which keeps the history of this avenue alive.
Porta da Frente|Christie's is proud of being part of this new age of rehabilitation in the city of Lisbon.
At this moment, the prices start from 997.500€. Book your apartment!