The docks in Lisbon and surroundings, once stage for so many historical moments in Portugal's history, are presently active gathering points for leisure fleets. Check out the main marinas and pleasure ports around the Portuguese capital.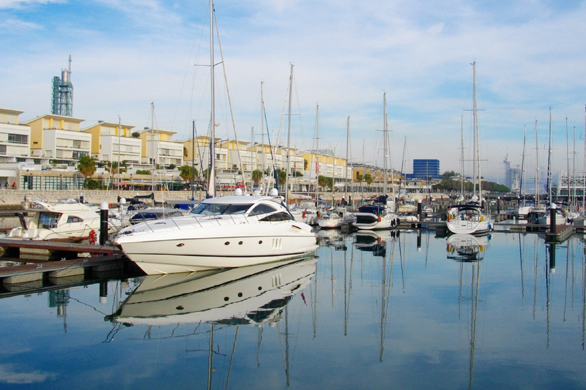 Right in Lisbon's heart and close to the airport, we find the Parque das Nações Marina, with 602 yacht berths and an innovative system of double water locks that make it a safe docking harbor.
The Alcântara Pleasure Boats Dock houses 440 leisure boats and is renowned for the intense night life around its shores, bursting with many restaurants, bars and discos. Next to the 25 April Bridge is the Santo Amaro Pleasure Boats Dock, another spot with a very lively night ambiance, offering space for 321 boats. A starting point of reference for the Portuguese Discoveries, the Belém Pleasure Boats Dock has capacity for 194 yachts and is well-equipped with a repair and maintenance facility. It's also the staging point for many sailing competitions. Next to Belém Tower is the Bom Sucesso Pleasure Boats Dock, with capacity for 163 vessels; it used to be a Navy dock but welcomes leisure boats nowadays.
The Oeiras Pleasure Boats Port is an agreeable and colorful location, equipped with many restaurants and bars. It is fitted out with 294 boat docking places and another 100 places in dry land, as well as a parking lot for 200 vehicles and a supporting service zone. For the more active outdoor enthusiasts, this is also a perfect place for bicycle riding, skating or just a little jogging.
With a privileged geographic location, Cascais Marina appears as a required stop to all type of pleasant vessels going past the Portuguese coast. It is also the stage for large international nautical events, proposing a large variety of restaurants, bars, stores (related to nautical activities and others) and also services connected to the pleasure boating industry.
With space for 180 boats, Tróia Marina is the perfect stopping point for those wanting to explore the nearby resort and fabulous deserted beaches.
Article in a Bestguide and Porta da Frente partnership