On Europe's westernmost point, Portugal shows off its extensive coastline as it brings a new surfing paradise to the world's attention: the first World Surfing Reserve in Europe. Jump on the (surf) board and follow us on a coastal discovery trip for the best surfing beaches and the major surf competitions.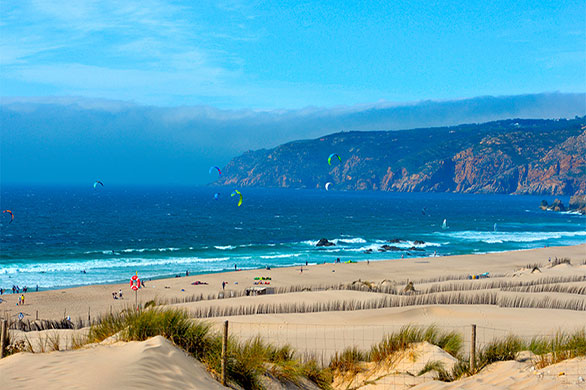 Since it was recognized as a World Surfing Reserve, Ericeirahas been regularly visited by many Portuguese and foreign surfers; their assiduous presence has brought even more interest to this fishermen village, now restocked with modern commerce, lodgings and eateries. The most popular beaches are to be found at Ribeira d'Ilhas, S. Lourenço, Coxos, Pedra Branca and Foz do Lizandro.
Not very far from Ericeira is Guincho beach, one of the most pleasant spots in the Cascais area and an attractive gathering point for many surfers, be it Summer or Winter, as the large waves and strong winds are rather appealing. Carcavelos beach is one of the longest in the Cascais area and tends to always have many surfers in their initial practicing years, just like in some of the beaches along Costa da Caparica.
Surfer Garrett McNamara surfed the largest wave ever at Nazaré's Norte beach, bringing an enormous international notoriety to this beach and its stormy sea. Supertubos beach in Peniche is considered the "surfing capital" for its exceptional giant waves (the name of the beach is by itself proof of that), appealing to surfers from all over the world.
Aljezur also had to put its name in the Portuguese surfing map, particularly Amado beach, where several international competitions take place, as well as Arrifana beach, a very popular surfing spot on the Vicentina coast.
The major surfing competitions take place in most of these beaches: the Surf Open Portuguese Competition Circuit, the Portuguese Surfing Circuit for Under-18, the Portuguese Surfing Championships for Masters and several regional Trophies. The most important surf competition in the world – the World Surf League Tour – also passes by Portugal, more precisely by the Supertubos (Peniche), Carcavelos and Guincho (Cascais) beaches.
Championships and other competitions are managed by the Portuguese Surfing Federation and the Portuguese Surfers Association, the entities representing the sport in Portugal.
Article in a Bestguide and Porta da Frente partnership